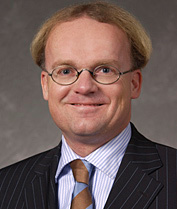 Henk Oosterhout, Managing Director at Duff & Phelps
Duff & Phelps positions itself as a trusted partner throughout the "transaction continuum." Concretely, what are your key scopes?

On the services side, when we talk about the transaction continuum, it means that we can help with the very first step when it comes to a potential acquisition, which normally comes from an existing portfolio of businesses. So you start with a financial value analysis to know where you generate the right value, right now, and where you destroy value, but also where you want to go into business. Those strategic analyses would either lead to a divestment decision or M&A decision, or both. Then we can assist with the M&A or the divestment process, followed later by the valuation of any tax and accounting transaction. We mean it when we say we offer the full spectrum of services – the full continuum.

Additionally, we aim to excel on the culture side, offering a consulting approach. We don't focus on a "hit and run" approach like some investment banks have adopted. We honor our continuum approach and we truly want to stay in contact with our clients on an ongoing basis.

Duff & Phelps essentially advises boards of directors, private equity firms and specialized advisors, such as law firms about strategic or tricky issues. What does customer relationship management entail?

We serve our clients in a continuum, however our focus is very strongly linked to valuation and finance matters. Because we are so specialized, we are able to dig deep and offer the skill set to tackle any complex issue our client might encounter. We are not an advisor that you can call for anything, but rather a specialized council that you can call for activities that really need a close eye and a tailored approach.

Since complexity is an integral part of your job at Duff & Phelps, what about the thought process it requires? Can you illustrate that?

The requirements are mainly divided into two things in essence: first, you have to truly know the industry and more specifically the developments of your clients within that industry. Secondly, you need to know how to use your financial numbers in order to say something about your strategy. That's the depth and the quality of your financial analysis. These two points are essential.

How has Duff & Phelps fit its HR policy around these stakes?

We look for a special type of consultant to fit in, in our firm. Ideally we are looking for someone with a consulting profile, someone thoughtful and an excellent communicator. However, it must be someone who has the tendency to go beyond simply 'scratching the surface' and get to the core of an issue. These are the main qualities we are looking for when searching for new colleagues.

It is understood that Duff & Phelps combines strong multi-disciplinary skills around corporate finance. But the firm also drives its professionals to specialize by industry, so that at any time you can mobilize 'The' expert. Is that to say that your job is so much different from one sector to another?

We perform in the same way across multiple industries. However, the difference is in the knowledge of where the industry is going and where the client within that industry is going. It's critical to work with talents who are not only excellent financial analysts, but who also specialize as industry experts. We can then expand industry-specific teams and offer a more powerful service to the companies who fit in that industry.

Additionally, Duff & Phelps focuses on "tailor-made" approaches with the help of specific analysis tools and methods. Is that a way of facing the "Big Four," whose consultancy methods seem ever more standardized?

I think the 'Big Four' are becoming increasingly aware that a tailored-made approach does the job really well. I think they are also improving in that regard. Our model isn't fundamentally different from what the Big Four do, but the most important difference is that we have this consulting approach. The Big Four, although they offer very good consulting services, you can still sense that in the end they are accountants. And in my opinion, accountants tend to have too strong of a focus on numbers, and less for what the client prefers. In that aspect, we are more 'consulting-like' compared to the Big Four.

In a few words, how would you describe the corporate culture at Duff & Phelps, or even its core values, that make "powering sound decisions" possible ?

The best way to try to describe it is through our entrepreneurial culture. We are highly proactive, we are looking for new opportunities and we are also trying to develop our practice faster. We have an entrepreneurial and consulting culture. Because we are still growing, we need to constantly evolve and develop ourselves, for instance through recent acquisitions that have made us more global. We only have been global for twelve years – in fact, I was one of the first to join as a non-American in 2003 – so we have a very young culture and being entrepreneurial is something that fits us really well. We have not reached 100 percent of our capacities yet, but we are willing to improve ourselves and we are aware of how we can do it.