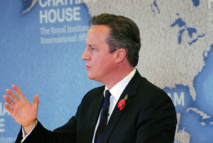 Chatham House
British Prime Minister David Cameron has restored the program introduced by Margaret Thatcher to assist the countries of Eastern Europe to improve the quality of public administration and against Russian domination during the Cold War -
reports
Bloomberg
.com , citing a source in the British government.
Fund of 5 million pounds (about 7.35 million US dollars.) is already in use for the establishment of relevant institutions in Ukraine and will be extended for another 15 million pounds to support democracy in Moldova, Georgia, Serbia and Bosnia and Herzegovina, said the agency's interlocutor.
A model for the program is know-how. It is Thatcher Foundation, which was established in 1989 and has been used to help develop institutions and the economy in countries that were in the sphere of influence of the Soviet Union, including Poland, Hungary and Czechoslovakia.
The intention to establish a fund, according to sources, Cameron announced to EU leaders during a joint dinner on Thursday.
Earlier, Cameron said that the Russian Federation will not be limited by aggression against Ukraine and can attack Baltic countries too.
Let us remind that last week a large consignment of armored vehicles in preparation for Atlantic Resolve large-scale exercises arrived in Latvia from the US. It is reported that in the Baltic region arrived about 3 thousand soldiers of the Third Infantry Division, US Army, the mission of which is designed for three months. US troops will take part in the maneuvers designed to demonstrate to Russia NATO's readiness to provide defense and security of the Baltic allies, which are Latvia, Lithuania and Estonia.
Major General US Army John R. O'Connor, who oversaw the unloading of tanks, said that the purpose of the operation is to "demonstrate our collective resolve to Putin and Russia." According to him, NATO's military equipment will remain in the Baltic countries as "long as it takes to curb Russian aggression."
Earlier in Estonia on the border with Russia was a parade on the anniversary of independence, which was attended by US and British military vehicles.
In early January, German media company Deutsche Welle also announced plans to launch service to counter Russian propaganda. As stated Deutsche Welle's head Peter Limburg, a new service is designed to 'challenge the propaganda of [Russian President Vladimir] Putin.'