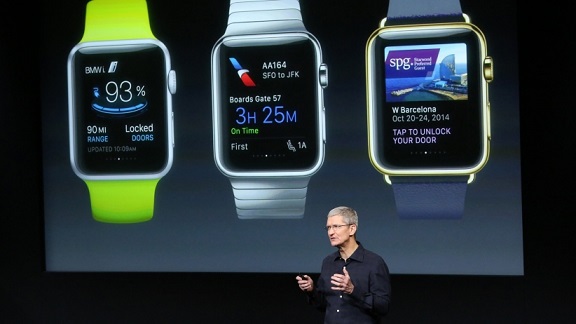 The digital touch Apple Watch was unveiled at Yerba Buena Centre in San Francisco. It is an incredible timepiece, immediate communication device as well as an innovative health and fitness guide. The cost of the device is $349 for a base model while the high end luxury gold watch's made of 18-karat gold price starts from $10000. The stainless steel model will be available within a price range of $549-$1049 for a smaller model while the bigger model will be within $599 to $1,099. However, the entry model called Sports is made of aluminium and is aimed to target fitness enthusiasts. Pre-orders of the device will start from 10th April. The smartwatch will be available for sale from 24th April in the US, Japan, China, Australia, France, Germany, Canada, Hong Kong and the UK. Tim Cook, CEO of Apple stated that the smartwatch will prove to be another revolutionary product across the world.

Everyone is eager to figure out whether this smartwatch by Apple will trigger the sluggish smartwatch market. However, this is the first time Apple has launched a new device without Steve Jobs. Apple is now entering the smartwatch market which has already been penetrated by products of many companies like Samsung Gear, Pebble Steel and Motorola's Moto 360. Many watches run on android, software by Google. With a price of around $100 to $500 or more, the android run watches does not possess as many features as Apple's watch and that is why they are not hit among consumers.

Apple watch is amazingly accurate and highly customizable as it can be personalized with different faces ranging from Chronograph face to informative modular faces or animated jellyfishes and butterflies on motion face. It also allows you to read emails, answer calls and send messages. With its new Digital Touch it facilitates communication through new ways like sending sketch and rhythm of your heartbeat. The watch provides a visual snapshot of daily activities with 3 divisions that includes active calories burned, number of times you stood to take a break from sitting and brisk activities. Moreover, it also offers detailed metrics required during workout sessions and even a comprehensive picture of entire day's activities and workout. Apple offers this watch in 11 different designs but is available in only 2 sizes 38 mm and 42 mm. It is said that the watch has a battery life of 18 hours a day and is charged with magnetic charger. This digital touch accurate watch offers variety of features including mobile payments, messaging and health and fitness apps. Apple's watch is motivating consumers to become more active and health conscious.

A common issue that was discovered in other watches was that of notification, either you get completely overwhelmed with too much of notifications or you receive none and it is pretty difficult to get right balance and control. Hence, it has become important for Apple to get it right in its new device. Apple is anticipating a sale of 20 million smartwatches during the year 2015. With the introduction of Apple watch, the wearables sales are expected to jump from 29 million in 2014 to 172 million in 2018.