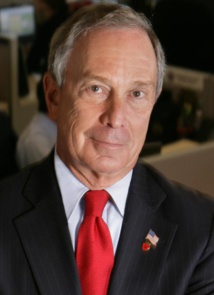 Rubenstein via flickr
The current mayor of London, Boris Johnson, whose term as mayor of the British capital will expire in 2016, has already announced his intention to run for parliament from one of the London borough elections on May 7 of this year, and then - to combine work in both positions over the next year and a half . This is unusual, but not prohibited by law.
Johnson is one of the potential candidates for the leadership of the Tory party after the current leader and Prime Minister David Cameron announced his intention to leave the post after five years. Notifying, Cameron called three people who, in his opinion, may lead the party after his departure. Among these was Boris Johnson.
73-year-old Bloomberg, who served as the mayor of New York three terms, calls Britain his "second home". The city is already harboring two of his daughter and ex-wife, a native of Yorkshire, with which he keep warm relations.
Bloomberg owns a London mansion worth 20 million pounds at Knightsbridge, and last year was dedicated by Queen Elizabeth II in honor knights - for "a huge business and charitable activities." However, for an American, even this is not enough to be elected to the mayor of London, because, by law, it is necessary to Bloomberg to have a British citizenship or nationality of any country - a member of the European Union.
However, such a person as Bloomberg, having invested in the UK economy millions of pounds, it is possible to quickly solve the problem. A couple of years ago, Boris Johnson, speaking to Bloomberg being the mayor of New York, joked: "We need to change jobs." Johnson was born in New York, where his father was working, and has American citizenship by place of birth. Now, in the wake of rumors that Bloomberg could be the next candidate for the post of the British Conservative Party in London, all the newspapers, of course, remembered the joke.
The Sunday Times quoted the words of one of the most influential advisers to the British prime minister Steve Hilton:
- To London, it would be a great success if we could convince Mike Bloomberg to run for mayor. His pragmatic approach to problem solving - this is exactly what is needed to London.
However, the former Bloomberg's deputy as mayor of New York, Howard Wolfson, told to The New York Post that he did not consider this turn of events possible.
-You can quote me as denying this possibility ... He (Bloomberg) is too fond of New York to leave it, and he knows how it will be difficult for anyone who comes (in place of the London Mayor) after Boris - said Wolfson.
In 2001, Bloomberg, whose fortune is estimated by Forbes at $ 36.5 billion came out of ranks of the US Democratic Party and joined the Republicans, from which also had elected to mayor of New York - these elections took place a week after the September 11 attacks.
Bloomberg spent $ 73 million of his own money on his campaign. He served as mayor three terms - 12 years - managing the city as a large corporation. In particular, speaking for a healthy lifestyle, the mayor introduced in New York bans on smoking in all public areas and on the sale of carbonated beverages in large bottles. He constantly advocated the severe restriction on gun ownership in the United States and due to this made many enemies in the "gun lobby".
source:
telegraph
.co.uk